How to recycle on MSU's campus
Michigan State University is actively working to reduce overall campus waste through a variety of efforts, and one essential component of that strategy is recycling. But to divert maximum waste from the landfill, MSU needs the help of each and every Spartan. Learn more about how to recycle at MSU below, and for the latest updates and to download the MSU Surplus Store & Recycling Center app to access the Waste Wizard, visit MSU Recycling. 
---
What can I recycle at MSU?
Review the latest campus recycling guide here.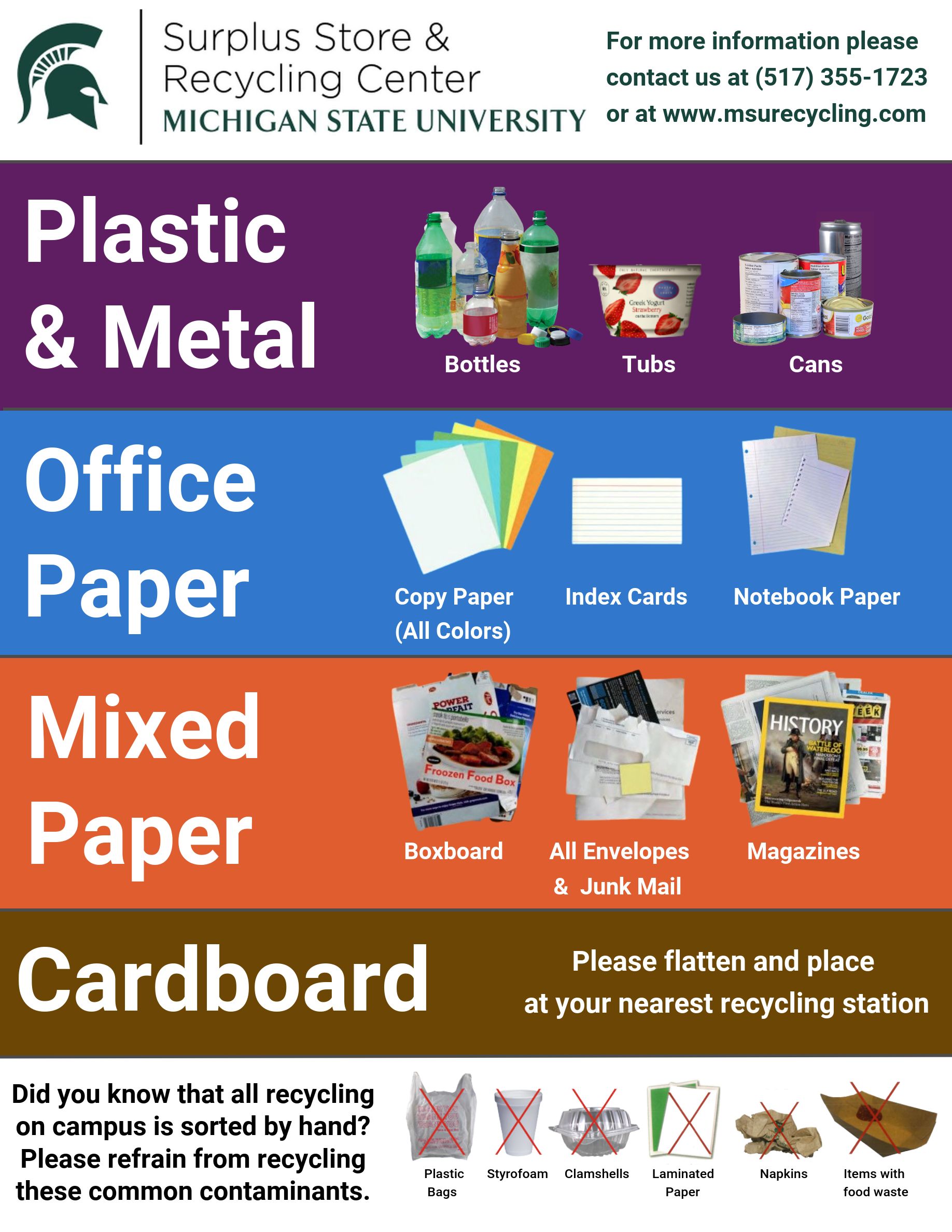 ---
Become a Waste Warrior
Through reuse, recycling and composting, MSU seeks to increase the campus diversion rate to 70%. To reach this goal, MSU Recycling is recruiting Waste Warriors – MSU faculty and staff who pledge to take a more active role in managing campus waste as a resource. Any staff or faculty member can sign up to be a Waste Warrior. Learn more about the Waste Warriors Program from MSU Recycling. Students interested in reducing waste within their residence halls should connect with their building Eco Rep. 
---
Hallway recycling stations

Look for the nearest recycling station near your office or classroom, often located in hallways.
---
Residence hall recycling stations
MSU offers a comprehensive recycling program in the residence halls. Recycling centers are generally found in building lobbies.
---
Office space recycling
MSU Recycling offers free recycling containers for office spaces, making it easier for faculty and staff to sort material. These containers can be ordered online from MSU Recycling and delivered directly to your department. 
---
Recycling Drop-Off Center
Select buildings on campus collect materials such as glass jars and bottles, but many are not yet equipped with these specialized stations. Glass and other recyclables can be taken to MSU's Recycling Drop-Off Center, located on the corner of Farm Lane and Green Way. Review the drop-off center recycling guide here.

Items that are not accepted at the drop-off center can be recycled through many outside sources, visit Earth911 for recycling solutions.
---
Donating items to the MSU Surplus Store
The MSU Surplus Store collects unwanted items and materials from the MSU community and makes them available for resale at low prices, usually to other MSU departments. Departments purchasing used items save money and reduce the university's overall environmental impact. The public may also purchase items for reuse during public sale hours or online.