Sustainable Food Options
From the food that is grown and produced on campus, to supplying the Spartan community with healthy and locally sourced products, and using innovation and education to reduce food waste, Spartans are committed to fostering a robust and sustainable food system. As students and faculty work to solve a diverse number of agricultural challenges, both locally and globally, the MSU community's access to sustainable source food options is growing. Thanks to partnerships and sustainable agriculture initiatives across campus, faculty, staff and students have sustainable, fresh food options year-round.  
---
MSU Student Organic Farm
MSU's Student Organic Farm provides student-led, campus-grown and certified organic produce to MSU dining halls while also providing a location for sustainable agriculture research, composting, beekeeping, and a year-round Organic Farmer Training Program that educates participants on organic farming principles and practices.

Made possible by several passive solar greenhouses, the MSU Student Organic Farm offers a year-round Community Supported Agriculture program. For 48 weeks of the year, members receive locally-grown, organic vegetables—including kale, collards, salad mix, potatoes, beets, onions, carrots and squash.

Another way to purchase fresh produce is from the Student Organic Farm's online store. The farm stand typically offered on Thursdays at the Rock is currently paused during COVID-19.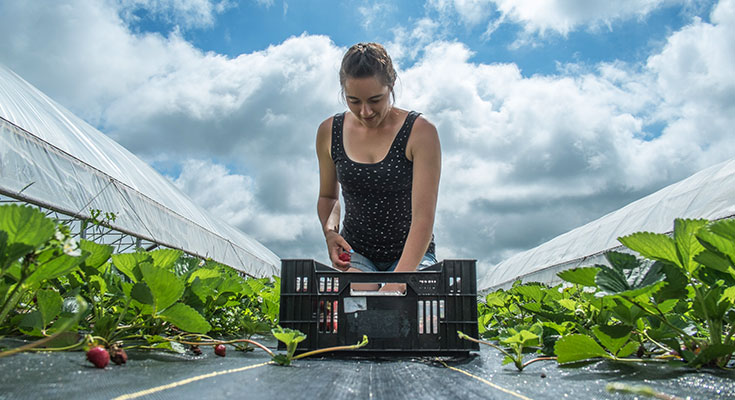 ---
Bailey GREENhouse and Urban Farm
The Bailey GREENhouse and Urban Farm, located at Bailey Hall, works in conjunction with Residential and Hospitality Services, the MSU Student Organic Farm and the Residential Initiative on the Study of the Environment as a student-led hoop house that grows mixed greens, spinach, herbs, and varying fruits and vegetables for dining halls.

The produce at the GREENhouse is grown in soil with composted pre-consumer food waste from Brody Square, allowing students to experience a sustainable food cycle first-hand. Harvested produce is also sold to the Kellogg Hotel and Conference Center, Cowles House and Red Haven Restaurant. The public can purchase produce grown at the GREENhouse at weekly pop-up farm stands. Check the Bailey GREENhouse Facebook page for upcoming dates and locations. 
---
MSU Dairy Store and MSU Bakers
Providing the MSU community with legendary ice cream and unique cheeses, the MSU Dairy Store makes, packages and sells their products at their Anthony Hall location. With consideration to the challenges of food safety and health, critical research is constantly underway at the dairy laboratories to ensure industry growth and improvement.

Located right on campus, the MSU Bakers provide fresh baked goods to MSU for a variety of special occasions. From custom cakes to care packages, they ensure that Spartan sweet treats are accessible throughout the year. MSU Bakers on and off-campus, local delivery.

In addition to serving the MSU community every day, these products are also sent to local and regional providers, ensuring that MSU's responsibly and sustainable produced food options are actively working to strengthen the Michigan economy and encourage environmentally-friendly agriculture.
---
MSU Beef and the MSU Meat Lab
Served in dining halls, MSU Beef is raised and processed entirely in Michigan through a partnership with MSU's Department of Animal Science. Spartans can also purchase meat products from the MSU Meat Lab.
---
MSU's Clean Plates at State program helps put environmental sustainability into perspective for campus diners, encouraging them to take simple steps to avoid wasting food. MSU Culinary Services conducts periodic food waste audits to assess how much food is being left behind and thrown away, then uses the results to adjust their strategies and ultimately reduce wasted food. This program is currently paused during COVID-19. Learn more about the program, and find additional resources about eating in the dining halls.
---
Local and Regional Food
In accordance with the Cultivate Michigan challenge to source 20% of food products from Michigan growers, producers and processors by 2020, MSU has developed key partnerships with over 150 local vendors and over 300 regional vendors. Some items sold across campus include:
Woody's Oasis Mediterranean cuisine, found at Sparty's, Brody Square, and The Edge at Akers 
Paramount Coffee, offering organic and fair-trade options, served at Sparty's and available for staff and faculty through University Stores
In addition, MSU is fostering educational opportunities that encourage sustainable food cycles and provide healthy, fresh options directly to campus through its own sustainable food programs. Learn more about sustainable food sourcing through the MSU Sustainable Food Procurement Guide. 
Photos courtesy of University Communications