About Sustainability at MSU
Reaching first across Michigan and then extending globally, MSU has made long-standing commitments and progress in sustainability as a global leader through cutting-edge research, experiential learning, community engagement, and improving sustainable operations. The university remains steadfast in its commitment to achieve a just and sustainable future, with stewardship and sustainability a key focus of the MSU 2030 strategic plan.
The  mission of the Michigan State University Office of Sustainability is to serve as an enterprise resource and convener for advancing sustainability across the university. The office aids students, faculty, staff and alumni in systems thinking, acting as leaders in implementing sustainable solutions, and inspiring others to act for a global sustainable community.
Sustainability Framework
MSU has adopted a sustainability framework that aligns with its strategic goals and embeds a systems approach to meeting the mission of advancing knowledge and transforming lives. Utilizing the four pillars of success: campus, curriculum, community, and culture, MSU continues to move forward in meeting energy goals and reducing greenhouse gas emissions, while also taking systemic sustainable actions and adopting a culture that enables the institution to reach those goals.

Vision: MSU is recognized as a driving force in global sustainability and climate change. 

Mission: MSU will chart the course to a global and sustainable future.
Spartans Think systemically in problem solving and decision making;
Spartans Act in developing, demonstrating, and deploying sustainable practices and efficiencies
Spartans Inspire others to take action to reduce their global carbon footprint and contribute to building more resilient and sustainable communities

Utilizing the framework of its four pillars of success: campus; curriculum; community and culture, the university cultivates and embeds cross functional and multi-disciplinary collaborations across the colleges, divisions, departments and community partners.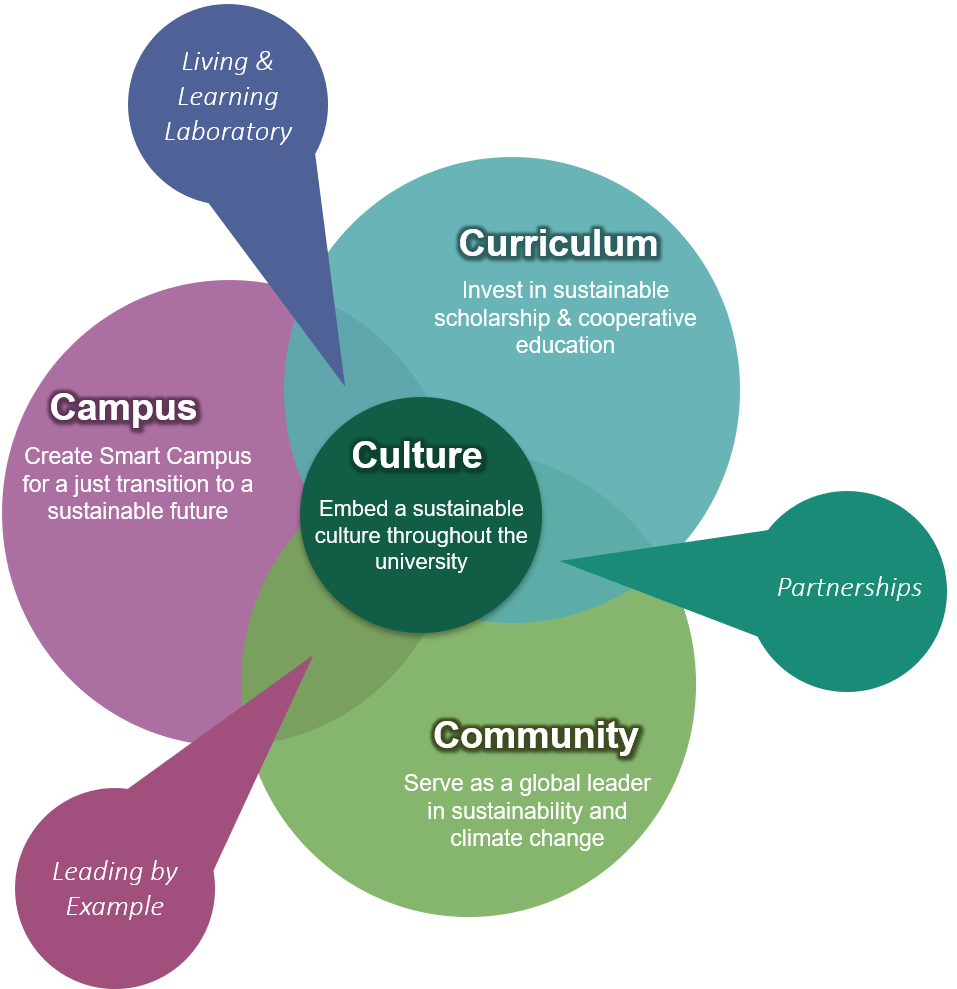 ---
Office of Sustainability Staff
Laura Young, Sustainability Manager
Email: youngla9@msu.edu
Lisa Randolph-Stukey, Sustainability Program Analyst
Email: randol35@msu.edu


Sustainability Champions
Katie Brandt, Educational Programs Manager, Student Organic Farm
Email: msufarm@msu.edu

Carla Iansiti, Student Life and Engagement (SLE) Sustainability Officer
Email: sustainability@rhs.msu.edu
Phone: 517-884-0626
Kris Jolley, MSU Surplus Store & Recycling Manager
Email: recycle@msu.edu
Phone: 517-432-9446
Tim Potter, Sustainable Transportation Manager, MSU Bikes 
Email: pottert@msu.edu
Phone: 517-432-3414
Eric Tans, Environmental Sciences Librarian 
Email: tans@mail.lib.msu.edu
Phone: 517-884-7808
Alan Prather, Curator, W. J. Beal Botanical Garden and Campus Arboretum
Email: alan@msu.edu
Phone: 517-355-4696
Laurie Thorp, Program Director, Residential Initiative on the Study of the Environment
Email: thorpl@msu.edu
Phone: 517-432-4944