About Sustainability at MSU
Established in 1855 as the nation's pioneer land-grant university and Michigan's first agricultural college, MSU was called upon to address growing areas of concern in the country: education, agriculture, infrastructure and science. Developing critical solutions like hybrid corn, the process for homogenization of milk and a cancer-saving drug, MSU's history is rooted in public service and leadership in the areas of natural resources, stewardship and health.

Today, MSU's 5,200 acre campus is still home to leading research, as well as cutting-edge technologies, award-winning programs and thousands of Spartans working to make a difference every day - addressing sustainability challenges across all disciplines. With dynamic facilities like the South Campus Anaerobic Digester, the Student Organic Farm and the Facility for Rare Isotope Beams, MSU continues to serve as a beacon for innovative leaders who want to use their educational experience to shape the solutions of tomorrow.

While the world faces bigger, more complex and increasingly urgent problems, Spartans are at the forefront of discovery, building on a foundation of strong core values to deliver high-impact results to the campus community and beyond. Guided by a powerful vision and mission, MSU strives to enable Spartans to conduct this important work on a campus that delivers on efficiency and innovation.

Vision: MSU is recognized as a driving force in global sustainability and climate change. 

Mission: MSU will chart the course to a global and sustainable future.
Spartans Think systemically in problem solving and decision making;

Spartans Act in developing, demonstrating, and deploying sustainable practices and efficiencies
 
Spartans Inspire others to take action to reduce their global carbon footprint and contribute to building more resilient and sustainable communities

Utilizing the framework of its four pillars of success: campus; curriculum; community and culture, the university cultivates and embeds cross functional and multi-disciplinary collaborations across the colleges, divisions, departments and community partners.   
Sustainability Framework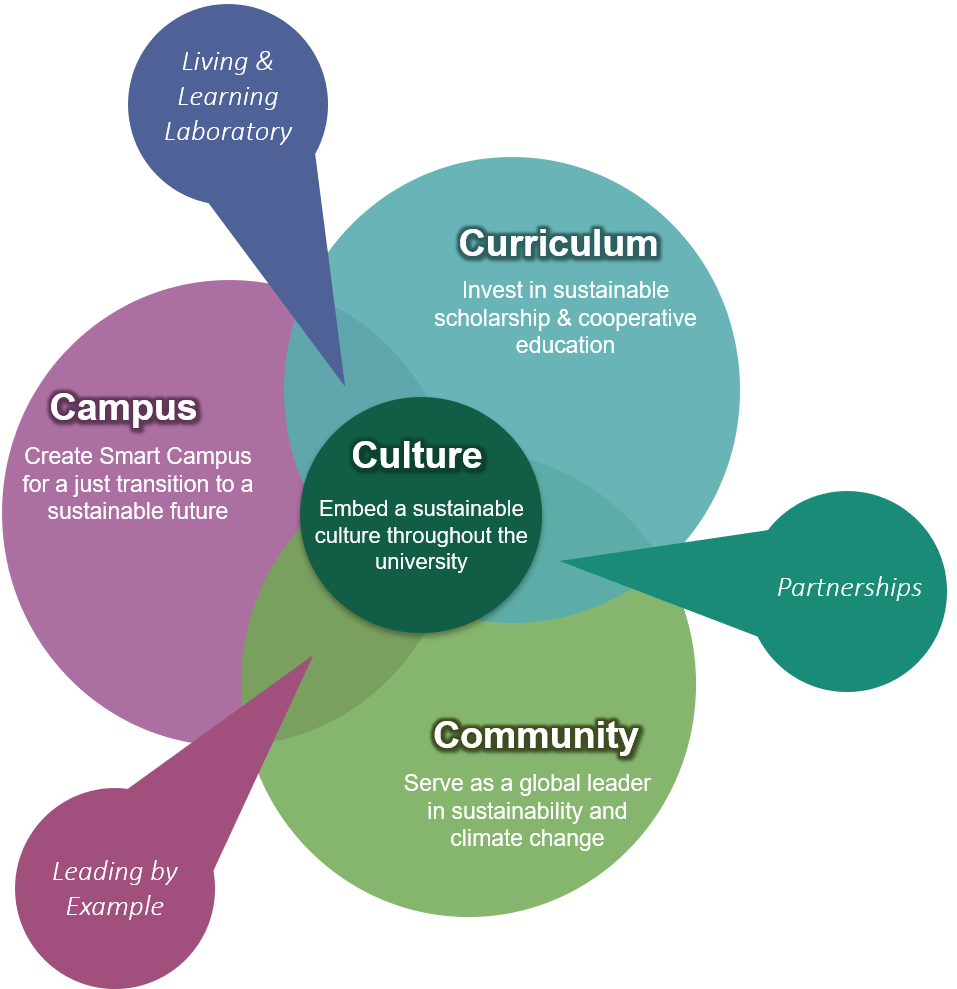 Campus [Create a Smart Campus for a just transition to a sustainable future] The MSU campus buzzes with ideas, energy, purpose and possibility. The place Spartans call home on the banks of the Red Cedar River is not only a world class academic institution, but also a place where a series of sustainable systems are operating to make the institution more efficient every day. From energy, biodiversity, and operational technologies, to building standards, procurement, and transportation, a sustainable smart campus is key to powering the academic enterprise and sustainable business operations. The university's extensive infrastructure also creates opportunities for experiential learning and using the campus as a living laboratory.   

Curriculum [Invest in sustainable scholarship, cooperative education and research innovation] MSU provides life-changing opportunities to a diverse and inclusive academic community and pushes the boundaries of discovery to solve the most pressing global challenges. Every day, researchers are engaging in cutting-edge and world-class scholarship that will help foster a sustainable future. With over 600 courses that incorporate sustainability and sustainable development goals into the curriculum, ample experiential learning opportunities, and continuing education, MSU is developing life-long learners with the capacity to accomplish positive change in the world. As a premier land grant institution, MSU also provides knowledge resources directly to individuals, communities, and businesses throughout the state.    

Community [Serve as a global leader in sustainability and climate change] MSU reaches globally in its impact and drives sustainable change within its own campus and beyond through collaborative, participatory, and transformative partnerships. Community-based partnerships are embedded throughout the fabric of the University and advance MSU's land-grant mission by connecting university capacity with community knowledge in mutually beneficial ways.

Culture [Embed a sustainable culture throughout the university] Every person has a role in advancing sustainable principles in their daily actions both on and off campus. To adopt a strong sustainability culture requires the university to empower and recognize their contributions and create an atmosphere encouraging innovation. Higher education opens doors to opportunities that create a more equitable world, and MSU's doors are open with affordable programs accessible to all. MSU has continued to push itself past its own limits to promote a culture of sustainability and accommodate campus diversity, equity, and employee satisfaction.   

---
Office of Sustainability Staff
Amy Butler, Director
Email: butle223@msu.edu
Phone: 517-355-1751
Laura Young, Sustainability Program Coordinator
Email: youngla9@msu.edu
Phone: 517-355-3985
Lisa Randolph-Stukey, Office Coordinator
Email: randol35@msu.edu
Phone: 517-884-9460
Sustainability Champions
Katie Brandt, Educational Programs Manager, Student Organic Farm
Email: msufarm@msu.edu

Alex Dardas, Assistant Director, Affinity Giving, University Advancement
Email: dardasal@msu.edu
Phone: 517-884-1135
Carla Iansiti, Residential Hospitality Servers (RHS) Sustainability Officer
Email: sustainability@rhs.msu.edu
Phone: 517-884-0626
Kris Jolley, MSU Surplus Store & Recycling Manger
Email: recycle@msu.edu
Phone: 517-432-9446
Tim Potter, Sustainable Transportation Manager, MSU Bikes 
Email: pottert@msu.edu
Phone: 517-432-3414
Eric Tans, Environmental Sciences Librarian 
Email: tans@mail.lib.msu.edu
Phone: 517-884-7808
Frank Telewski, Curator, W. J. Beal Botanical Garden and Campus Arboretum
Email: telewski@msu.edu
Phone: 517-884-0764
Laurie Thorp, Program Director, Residential Initiative on the Study of the Environment
Email: thorpl@msu.edu
Phone: 517-432-4944