Connect with your Eco Rep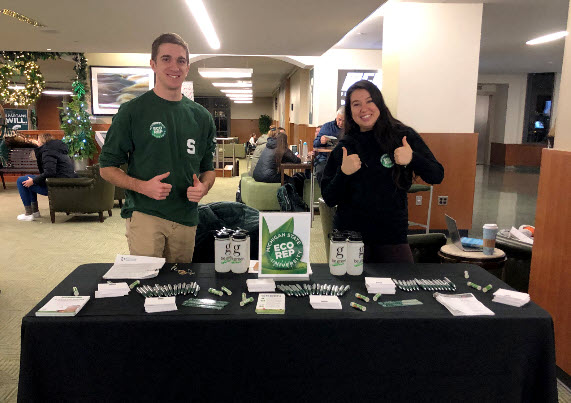 Eco Reps are students who care about sustainability and the betterment of their campus and serve as peer to peer educators for MSU students. They engage in programming such as developing the Spartan Green Living Certification. Connect with your Eco Rep for tips on going green.
Follow the MSU Sustainability social media channels to keep up to date with Eco Reps!
Facebook: @msusustainability 
Instagram: @msusustainability 
Twitter: @MSU_Sustains 
Become an Eco Rep
Apply today at go.msu.edu/ecorep. Applications are due Sept. 15, 2022.

Share your passion for sustainability with the Spartan community and become an Eco Rep in your residence hall! Eco Reps serve as ambassadors for sustainability and encourage environmentally responsible behaviors through education and activities. Eco Reps will receive leadership recognition for volunteering in their halls and implementing sustainable initiatives. As an approved My Spartan Story activity, the Registrar's Office will formally recognize this experience on a student's Spartan Experience Record. Eligibility: must be a current undergraduate student living in a residence hall. Successful applicants will have a passion for the environment and sustainability and be an engaged, innovative, outgoing and self-motivated person.