Optimizing wastewater treatment in East Lansing
Originally built in 1973, the East Lansing Water Resource Recovery Facility (WRRF) has been safely treating and disposing of wastewater in the East Lansing area for over 40 years. As some equipment at the WRRF nears the end of its useful life, facility administrators are partnering with MSU Infrastructure Planning and Facilities (IPF) to ensure that, as updates are made, operations not only maintain safety and affordability, but also strive for increased efficiency and environmental quality.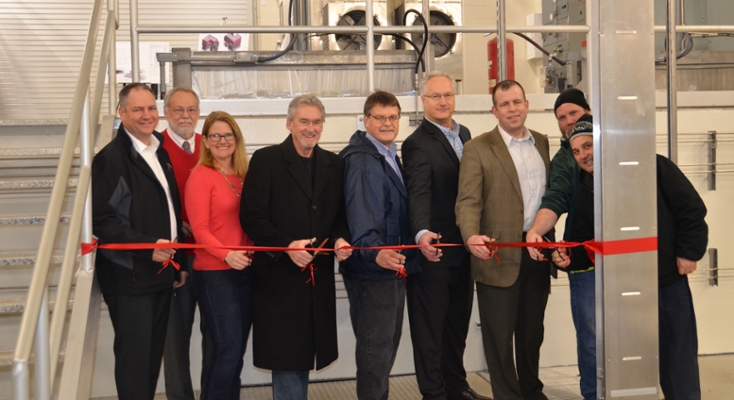 Several East Lansing City Council members and staff at the ribbon cutting ceremony fo the East Lansing Water Resource Recovery Facility, following completion of phase one updates to the facility.

"In 2006, a master plan for facility improvements at the WRRF was established to guide future development and address aging equipment," said John LeFevre, design administrator for IPF's Planning, Design and Construction team, "Because MSU is responsible for 40 percent of the plant's operation and improvement costs, we feel it is imperative to take an active role in the development and implementation of upgrades to the facility."

LeFevre and other MSU engineers worked in partnership with WRRF staff to identify opportunities to optimize water treatment processes to reduce energy and chemical usage. Executed over the course of three phases, the improvements are expected to have significant environmental and economic benefits.
Phase one, which wrapped up construction in November of 2016, addressed the tertiary treatment system, one of the last stops for treated water before it is discharged to the Red Cedar River. "The huge upgrades with phase one are new tertiary filters and the construction of a separate building to house the new ultraviolet disinfection system," said LeFevre.

Operating in place of the old chemical disinfection system, the new system uses ultraviolet light to disinfect water before it is discharged, eliminating the use of chemicals like chlorine in the treatment process. "Not only does this improve the safety of WRRF employees by reducing their exposure to chemicals, but it also helps reduce the amount of chlorine that ends up in the Red Cedar," said LeFevre, "with a chemical system, you're constantly trying to find a balance of chemical to treat the amount of waste in the water, but no matter your accuracy, you end up with residual chlorine that travels to the river and disturbs natural ecosystems. With UV treatment, you remove that risk."

Phase two, expected to begin construction during the summer of 2017, will address the headworks and interceptor processes, which are the initial places where sewage comes to the plant--the "grizzly business" of WRRFs, according to LeFevre. In addition to equipment replacement, a biosolids master plan is in the works to evaluate alternate options for managing dewatered waste, or waste that has been converted to a solid through the removal of water. "Right now, we send dewatered waste to the landfill," said LeFevre, "we're hoping to take that captured waste and reuse it some way, whether that be through a new anaerobic digester to capitalize on renewable methane gas, or a facility to create fertilizer." On the horizon is phase three, which will evaluate and update the primary treatment process.

While LeFevre acknowledges that more sustainable and efficient improvements are an industry trend, he also points out that municipalities experience constant financial challenges when upgrading aging infrastructure. "WRRFs face a tremendous amount of pressure to keep the public costs reasonable," said LeFevre, "however, as engineers with access to leading MSU faculty and who are committed to responsible facility practices on campus, I think we can show some innovation and stewardship to help balance economic improvements with stronger environmental paybacks."

While MSU counts on the East Lansing WRRF for reliable wastewater treatment, it's clear that the partnership between the city and university engineers has benefits that reach far into the community and along the banks of the Red Cedar.