At MSU, innovative change is a Spartan responsibility
With over 500 buildings and more than 5,000 acres of contiguous campus, ensuring excellence in every corner of Michigan State University takes the collective effort of every student, instructor and staff member. While leading programs and facilities are the foundation of quality education at MSU, it is up to all Spartans to continue inspiring positive change on campus in response to our most pressing issues. For Jamie Payne, Interior Designer at MSU Information Technology, the issues at hand were the lagging sustainability standards in MSU's Computer Center.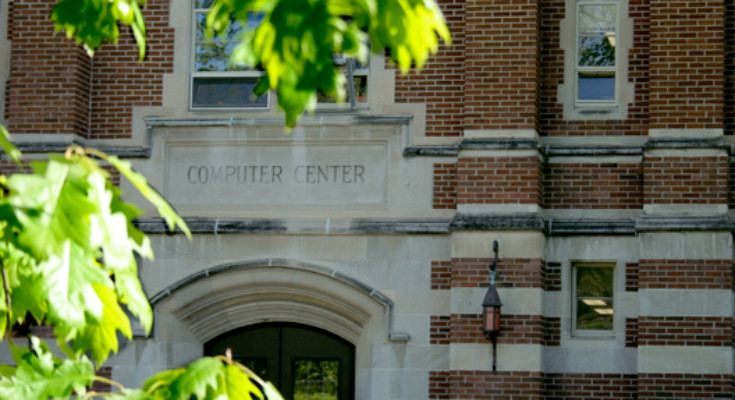 Built in 1947, the Computer Center was falling behind on a number of sustainable standards that are common across campus, such as electric hand-dryers in restrooms and desk-side recycling. During the last academic year, Payne began to evaluate the building and consider where changes could be made to improve practices.

"My motivation came from seeing that we had a lot more to do here," says Payne, "not only to make it a more sustainable environment, but to make it a healthier work environment. I think the two go hand-in-hand—if we want to see change, we need to make it happen."

Payne, with support from leadership, began to roll out a number of initiatives, many of which are still in progress at the Computer Center. One simple change involved increasing the number of recycling containers in the building, and ensuring they were placed strategically for convenient recycling. But other initiatives proved more challenging, such as the plan to reduce the staff's 20 microwaves and fridges down to one communal break room, and converting to desk-side recycling with mini landfill bins.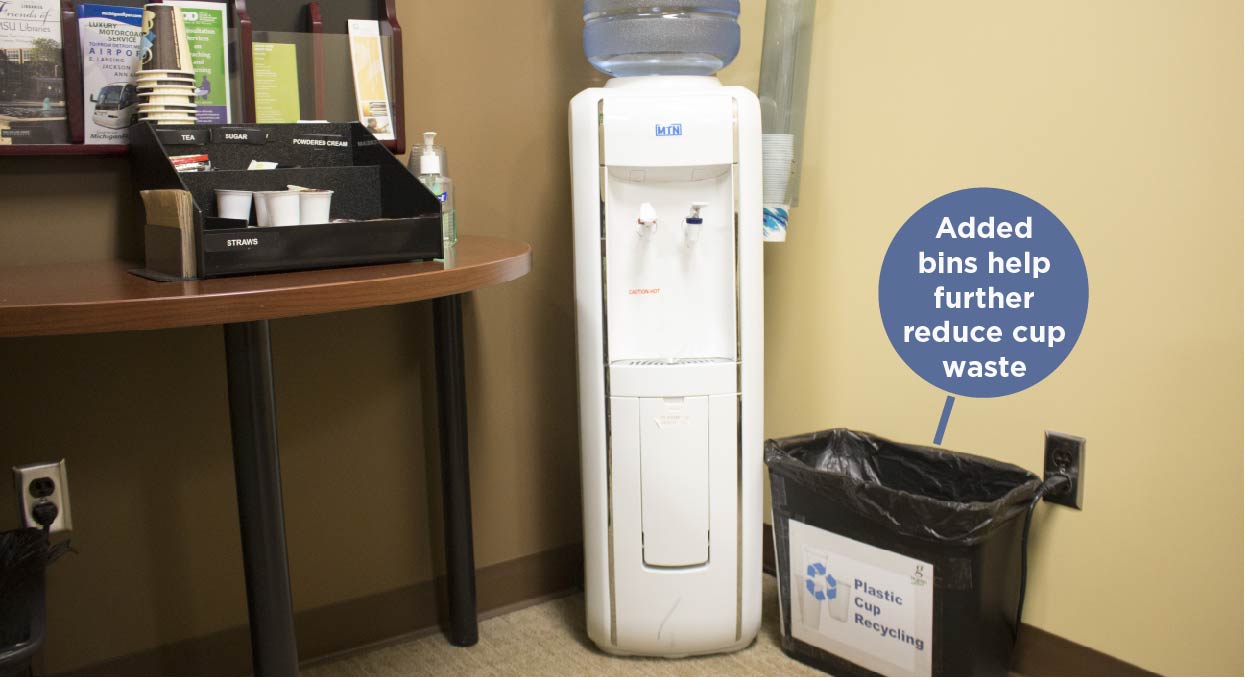 Payne relayed that most staff in the Computer Center are receptive to the changes, and the most common roadblock is a lack of awareness on MSU's recycling practices and recycling availability. "I think this all comes down to educating people about what they can do and about the tools available to them," notes Payne. She is developing an onboarding package that will explain to new employees not only what their responsibilities are, but also how they can easily incorporate sustainability into their work habits. 

Other changes, such as installing hand-dryers in restrooms, required Payne to reach out to MSU Infrastructure Planning and Facilities (IPF) for support. "It was an initiative by our department, so IPF funds a portion and we fund a portion," Payne explains, "but they are happy to do it, because paper towel and maintenance costs are reduced." Serving the entirety of MSU's expansive campus, IPF is constantly looking for opportunities to reduce costs through key energy savings—something that is especially difficult on a campus so large. Through these collaborations with staff, IPF can efficiently locate problem areas and help implement lasting solutions. 

While we all come to MSU for different purposes, we are equally charged with maintaining the highest quality of excellence on campus. By serving as champions of our work spaces, classrooms and fellow Spartans, we all have the ability and responsibility to continue driving innovative change at MSU. 

"To me, it seems that everything ties in with sustainability," says Payne, "as stewards of MSU, we should be standing behind what MSU is trying to implement." For her, the changes she led are an obvious, accessible method for improving the work environment, but it is individuals like her, who truly allow MSU to advance its mission of sustainability.