Graduate class uncovers key campus drinking water preferences
At Michigan State University, plastic water bottles account for a large amount of campus waste, yet it is estimated that only 25 percent of the nearly three million water bottles on campus make their way to MSU's Recycling Center each year. To better understand water consumption and uncover areas for improvement, graduate students Cheng-Hua Liu, Melissa Rojas-Downing and Zhenci Xu partnered with MSU Sustainability to conduct a research survey that measured water usage and preference of the MSU community.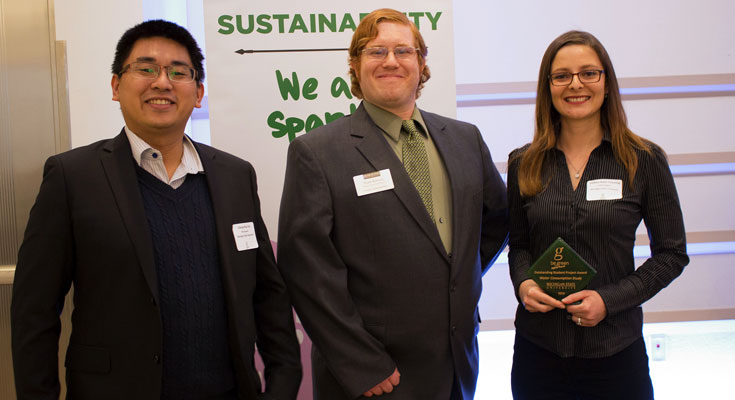 Water Study Team members Cheng-Hua Liu and Melissa Rojas-Downing pose for a photo with MSU Sustainability Project Coordinator Sean Barton. The team was recognized with an award at the 2016 Be Spartan Green Award Gala for their campus water consumption research.
 

The survey began as a project for a Water Policy and Management course, where students were asked to work in interdisciplinary teams and with real-world professionals to address an issue related to water policy and management. "The project is a different perspective from most graduate school work such as literature review and research - it's a chance to interact with professionals and real people," said Dr. Erin Dreelin, Assistant Professor in the Department of Fisheries and Wildlife, "it also gave them an opportunity to communicate with individuals outside of the hard sciences and participate in research with actual application."

Liu, Rojas-Downing and Xu asked students, staff and faculty about their preferences for bottled water versus tap water on MSU's campus, specifically addressing which source was preferred and why. Over 1,200 participants responded, and the team gathered some interesting results: 
37 percent of participants prefer tap water, while 36.6 percent prefer bottled water
39 percent of participants use filtered water stations on campus
90 percent understand that bottled water has higher environmental and economic costs than tap water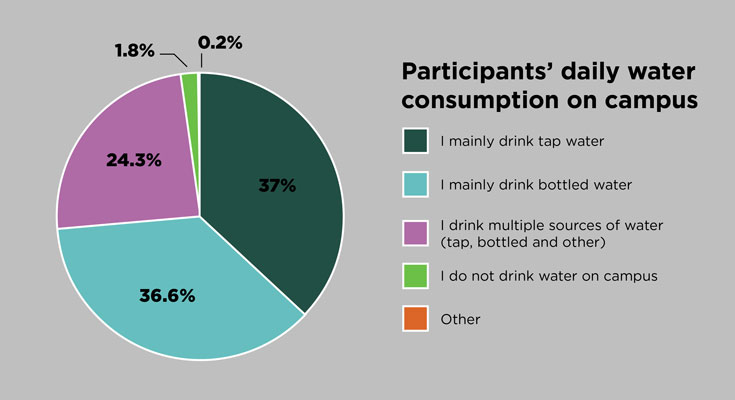 Results from the water study show that consumption of bottled water is consumed in equal amounts to tap water on campus.


These findings not only provide MSU with key insight on drinking water preferences, but also support numerous ongoing projects at MSU Sustainability. "Currently, the water study is being used to help improve bottled water recycling programs on campus, increase awareness of the water refill stations and supplement a study of water cooler use by staff and faculty," said Sean Barton, Project Coordinator at MSU Sustainability, "this kind of information is difficult to obtain, and really helps us adapt our programs to meet the needs of students, faculty and staff based on their concerns."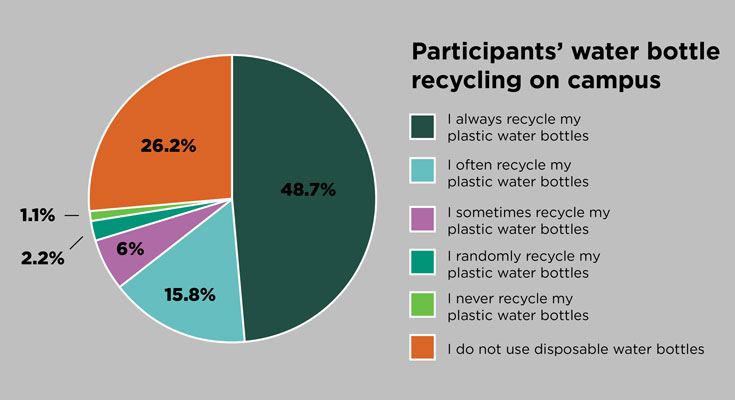 A majority of participants in the study show awareness regarding water bottle recycling, with 26 percent of participants indicating that they do not use plastic water bottles.


Barton worked closely with the team to help create a successful survey, offering advice on refining the scope of the project and helping them overcome technological obstacles. "None of us had the experience of creating a campuswide survey like this, but Sean did - he helped us meet deadlines and work out the kinks of the survey," said Liu, one of the water study creators, "Although he was officially a stakeholder in our project, he was truly like another team member and even a friend."

While the water study revealed a number of interesting facts about the current drinking water preferences at MSU, the team is hopeful that the survey can create an ongoing dialogue between the MSU community and the university. "It's clear that drinking water is a relevant issue on campus. We hope the study can be repeated so that MSU can continue engaging students, staff and faculty in this important conversation," said Rojas-Downing, water study team member. 

For Dr. Dreelin, the hope is that both her students and the stakeholders she works with benefit from the project, using campus as a laboratory to tackle these tough issues. "We have this great intellectual resource on campus in our students and faculty," said Dreelin, "Using them for the latest and greatest in experimentation is key to solving problems, and it's great to see that this project had a real impact on campus programs and the water refill stations at MSU."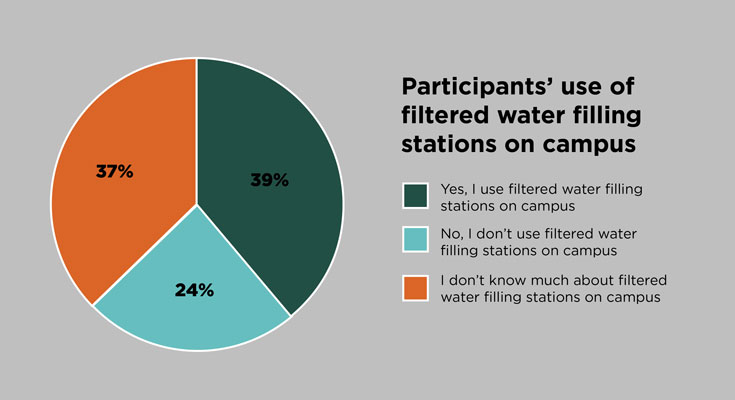 Results from the water study show that there is an opportunity for MSU to increase awareness of filtered water filling stations on campus.


Though a small part of the multifaceted effort to reduce waste on MSU's campus, the water study represents how research partnerships between students and university departments can benefit campus.