CATA welcomes improved hybrids to fleet
Lansing's Capital Area Transportation Authority (CATA) recently celebrated the 10th anniversary of their switch to hybrid models by introducing seven new Xcelsior hybrid buses. Since discontinuing purchase of traditional diesel models in 2006, it is estimated that CATA buses have driven over ten million miles—cutting emissions about 90 percent when compared to traditional models.

The new, lightweight Xcelsior hybrids are more fuel efficient and streamlined. They feature the industry's first LED headlights, which improve driver vision at night, as well as wider doors for easier passenger boarding and a fire detection system that signals at the first sign of fire.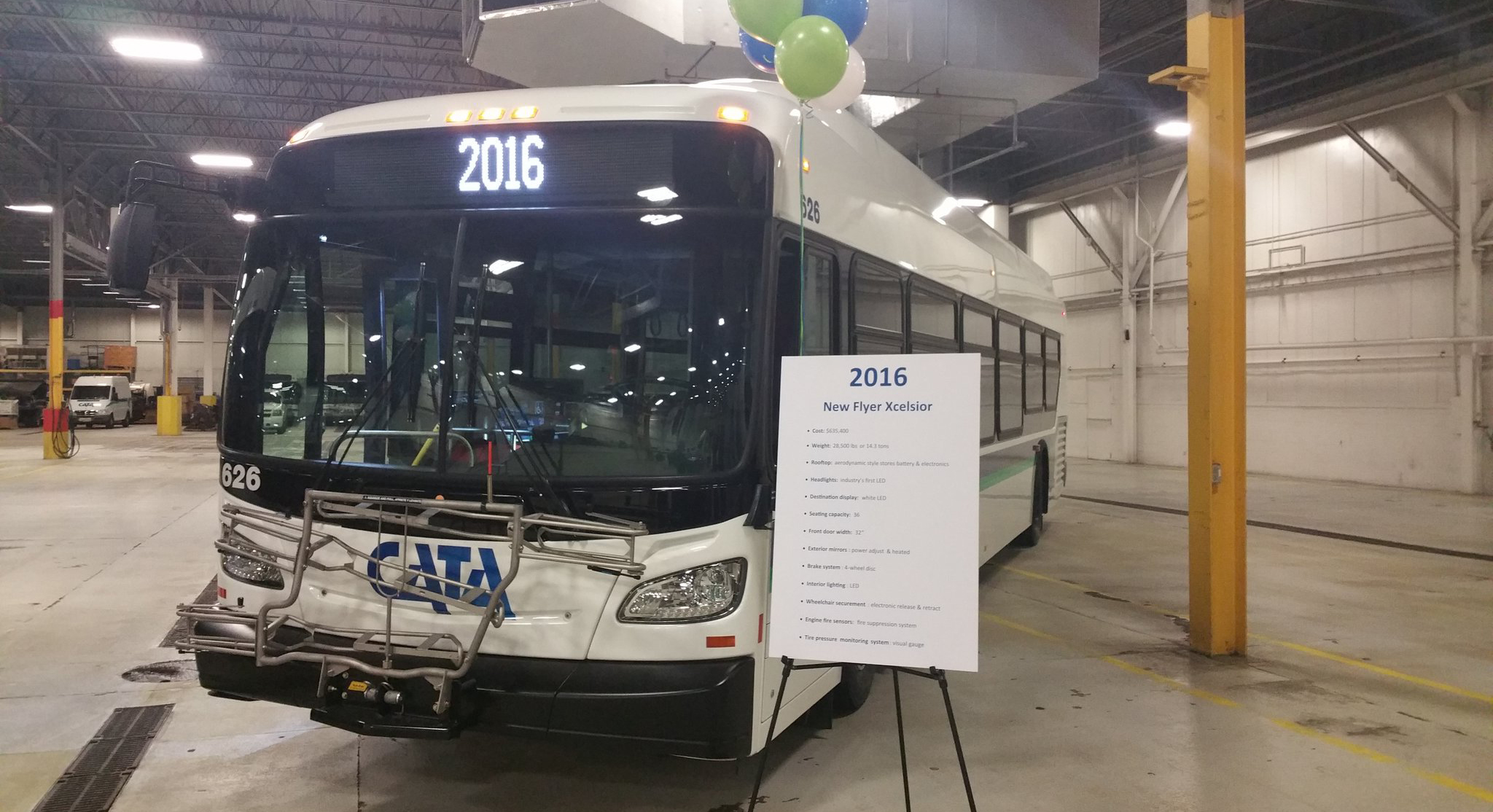 The organization prides themselves on being the first mass transportation unit to introduce hybrid vehicles in the state of Michigan. CATA remains committed to reducing their greenhouse gas emissions without sacrificing customer satisfaction.

The new Xcelsior model features:
Greatest passenger capacity of any similarly-sized model
Smoother ride courtesy of eliminating mechanical shifting
Power via compressed natural gas (CNG)
Lighter weight composite material used in flooring and other areas
Industry's first LED headlights
Compared to the first hybrid buses that were introduced in 2006, the Xcelsior has LED interior lighting, power adjusted and heated exterior mirrors, and electronic release and retract wheelchair securements, all contributing to a more comfortable ride for passengers.
While applicable to all routes and rides, CATA's devotion to lessening environmental impact is especially noticeable on campus at Michigan State University. CATA's influence on
MSU's transportation systems
cannot be overstated, as thousands of students, staff and faculty depend on every route, both on and off campus. The availability of convenient transportation keeps hundreds of cars off campus roads, and lets MSU's iconic green space remain unchanged.
"We hope every time you see one of those [clean machine] stickers, you will be reminded of CATA's commitment to having hybrid buses on the street," says Sandy Draggo, executive director of CATA.
From MSU's Brody Hall to the Auditorium, from the Capitol to Meridian Mall, look for the Clean Machine stickers on your commute, and consider trading your morning drive for a comfortable, affordable and sustainable ride on one of CATA's new hybrids.