MSU student project grows campus green space
For Michigan State University students, the campus experience extends beyond the class room – it thrives in unique outdoor spaces, connected by the beloved Red Cedar River. To take advantage of this landscape, one group of students from MSU's Residential Initiative on the Study of the Environment (RISE) program developed a project, called "A Truly Green Space," to transform a riverside deck outside of Bailey Hall from a low-traffic area to a vibrant natural space that encourages students to enjoy MSU's unique environment.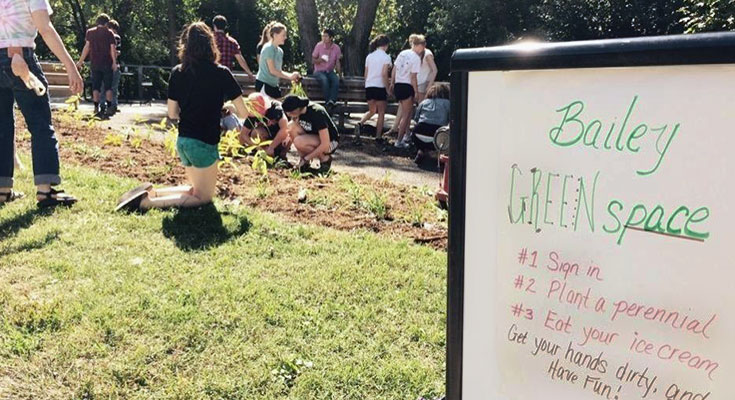 As RISE program undergraduate students, Zhuli Stoyanova, Hannah Brenner and Jorhie Beadle were all required to enroll in a freshman seminar and work on a grant proposal related to enhancing campus sustainability. With the RISE program situated right in Bailey Hall, "A Truly Green Space" became a project that hit close to home and encouraged the group to take their proposal to the next level.

"It was really important for our group to see this project get accomplished and installed on campus, even after the class was over," said Stoyanova. With help from MSU Sustainability's Be Spartan Green Student Project Fund, they were able to secure funding and move forward with their proposal.

Students worked with Landscape Architect Deb Kinney and Landscape Designer Tressa Wahl from MSU Infrastructure Planning and Facilities to design the space. Several 'greenscaping' practices were employed to improve the health and appearance of the space while also protecting and preserving natural resources. A number of native plants were selected to attract natural pollinators, and were specifically chosen to maximize efficiency and minimize human upkeep.
Numerous students from varying backgrounds worked together to bring the project to life. "The students that got involved were from all sorts of majors. It was great to see excitement about the environment from people who don't necessarily study it," said Stoyanova.

With the completion of the project came several benefits, both social and environmental. Potassium levels in the soil rose to optimum range, and the newly installed plants serve as a stronger vegetative buffer that prevents stormwater runoff along the Red Cedar River. Additionally, the space now sees increased traffic and serves more diverse purposes, like reading, hanging out with friends and enjoying the surrounding nature.

"Having a space to appreciate nature is important, and MSU has a lot of those spaces. But having one that was specifically put there by students for both student use and to help the environment - that's unique," said Brenner.

As projected, upkeep of the space is minimal; seasonal cleanups attract students and volunteer groups, including MSU Greenline, who remove leaves, lay down mulch and replace dead plants. Looking forward, the group plans to install informational signs at the site and maintain it as a unique location representing student-led environmental stewardship on MSU's campus.