From concern to action: MSU's recycling program has students to thank
At MSU, students have the power to generate change; as Spartans, activism and service run through our blood. Long before the university was home to dozens of sustainability and environmental programs, passionate students were creating positive changes on campus. In fact, Michigan State University's Recycling Center and Surplus Store would not be what it is today had it not been for a special student group.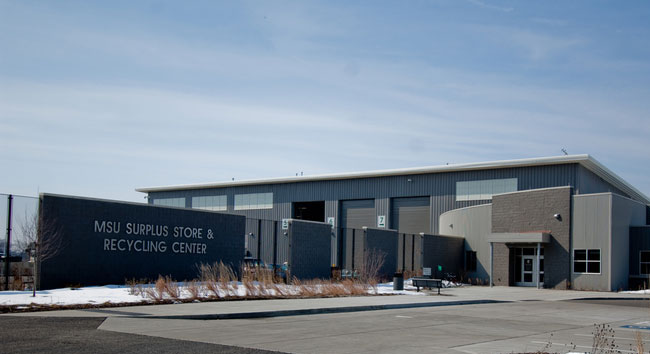 On campus, concerned students made 1988 a year of transformation, bringing a petition to the MSU Board of Trustees calling for increased focus on campus recycling. Inspired, the Board formed a task force with the students to plan recycling and waste reduction measures. Just two years later, the Office of Recycling and Waste Reduction (ORWR) was established to manage the distribution and collection boxes for office paper, cardboard and newspaper.
Kris Jolley, MSU's reuse and recycling manager, has been part of the initiative since the beginning. "I was the first student they hired here when they started the recycling program in 1990. I was a student supervisor for most of my time through school, then I graduated and left for a few years, and somehow ended up back here," says Jolley.

Tonia Olson, another original recycling employee, served as an essential part of the education team as the first education coordinator. "My role was to inform and educate campus staff about the recycling program. I created all our communication pieces and gave presentations to all departments."

At the beginning, everything was picked up by students and staff, who would sort the materials by hand and box them to be shipped off-site to another company for sale. "We worked with what we had and made it work," says Olson.

What started as a group of students, two full-time operational employees and one director grew into today's program, with 35 full-time employees, about a dozen temporary employees and approximately 50 to 100 student employees across surplus, recycling, waste and bikes.

It wasn't until 2009 that the four main divisions—MSU Recycling, Surplus Store, Storage and Waste Management—were brought under one roof. The current 74,000 square foot building on Farm Lane serves as a hub for waste diversion operations for campus and the greater Lansing community. The facility boasts a 24-hour recycling drop-off center aimed at collection from off-campus students and the community, as well as the Surplus Store, and the sorting line for recycled material. Today, technology at the facility allows employees to collect and bale their own materials and sell directly to the market, nearly quadrupling recycling revenue since 1990.

The largest, and possibly most rewarding challenge, lies not in deciding what to do with 40 million pounds of waste and materials each year, but in changing the perceptions of the campus community.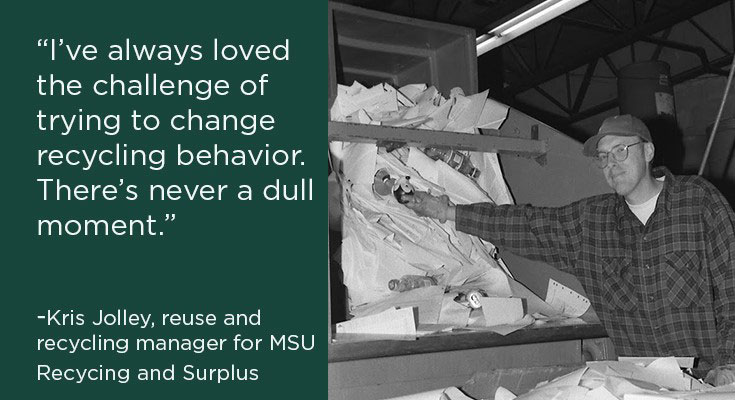 Kris Jolley, reuse and recycling manager for MSU Surplus and Recycling, working to sort out plastics and paper materials in 1990 for ORWR. Photo courtesy of MSU Surplus and Recycling.


"A lot of people think recycling is just paper, cans and bottles, but there's so much more to it than that," says Jolley, "I love the challenge of trying to change behaviors without folks knowing their behavior's being changed–there's never a dull moment. Recycling really can't exist without a good education program," Jolley recounts. With an estimated 7,000 new students joining the Spartan family each year, Jolley and his team have to be conscious of how they educate and engage both new and returning students.

From orientation programs that emphasize reducing and recycling, to placing recycling bins in convenient locations within residence halls, Jolley's team works in partnership with academic and student life departments to ensure the message is clear: recycling is a Spartan priority. Back at the Recycling Center and Surplus Store, that priority is strengthened by the student employees who gain valuable experience and translate that expertise to their habits and studies, serving as student advocates on campus—an invaluable resource in raising awareness about recycling and sustainability.

The MSU Recycling and Surplus Center serves as an example of MSU's commitment to supporting the passions of students as they create change on campus and beyond.

To learn more about the recycling center at MSU, visit the Recycling website.