Maxmizing reuse and recycling opportunities at MSU
Reduce, reuse and recycle are the three "Rs" that guide the MSU Surplus Store. The Surplus Store collects unwanted materials from the MSU community and makes them available for resale at low prices, usually to other MSU departments. Departments partnering with the Surplus Store, to sell or purchase items, save money and reduce the university's overall environmental impact.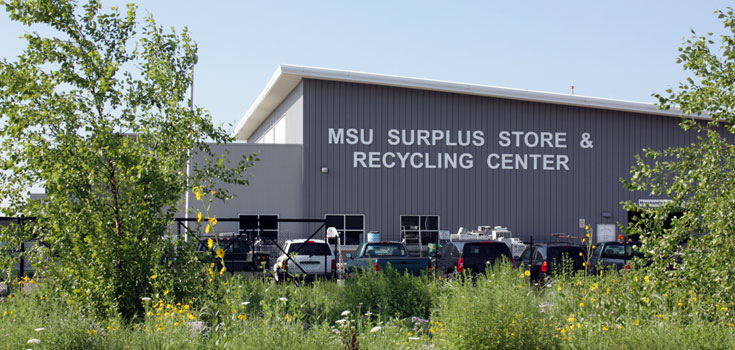 "For every piece of material recycled or repurposed, people are doing more than just saving landfill space," said Surplus Store Sales Manager Tom March. "These actions help save trees, water, electricity and much more."

When an item arrives at the Surplus Store, the first step is to see if it can be sold on the sales floor or online. Items that cannot be sold or redistributed through donation are recycled in a variety of ways.
Electronics
Electronics material that cannot be resold is disassembled, sorted and sent to a certified local electronics waste recycler. Electronics waste is one of the fastest growing waste streams in the U.S. and due to the hazardous substances found in electronics it is of the utmost importance that we work to keep e-waste out of landfills. To learn more about safe electronics recycling practices, visit the EPA's eCycling website.
Books
All books are inspected for possible reuse. If a book can be reused it is either sold through the Surplus Store or donated. Books that cannot be sold or donated are recycled. Book covers and bindings are removed and the remaining pages are processed through MSU's Recycling Center and sent to be made into new paper products.
Sale floor items
Most items are repurposed through the Surplus Store, but those that are not picked up are disassembled and recycled.
What can you do?
Collaboration across campus is key to reducing waste at MSU. In 2014, our cooperative actions diverted an impressive 19 million pounds of material from the waste stream. By rethinking the way we dispose of material, we collectively contribute to a greener campus.