Earth Month Events
Student Rally at the Rock
April 10th, 2019
10am - 3pm
The Rock @ MSU
Students from the Hub of Innovation's IAH 231 class will host a Rally at The Rock (Fairchild Theatre) on April 10th. This event is meant to increase awareness and passion on campus around food insecurity and food issues. This all-day event will include give-always and raffles and is specially designed with students in mind.
Facebook event: https://www.facebook.com/events/439664076772763/
North Neighborhood Spring Carnival
April 12th, 2019
4pm - 7pm
North Neighborhood 
The North Neighborhood Spring Carnival will take place outdoors in the lawn between Mason-Abbot, Friday April 12th from 4pm-7pm. There will be a variety of booths, including a move-out information booth and a recycle booth, as well as a graduation cap booth and cleaning supply booth. Move-Out is almost here, and that means spring cleaning! Stop by this exciting event to blow off some steam and learn how to move out campus sustainability.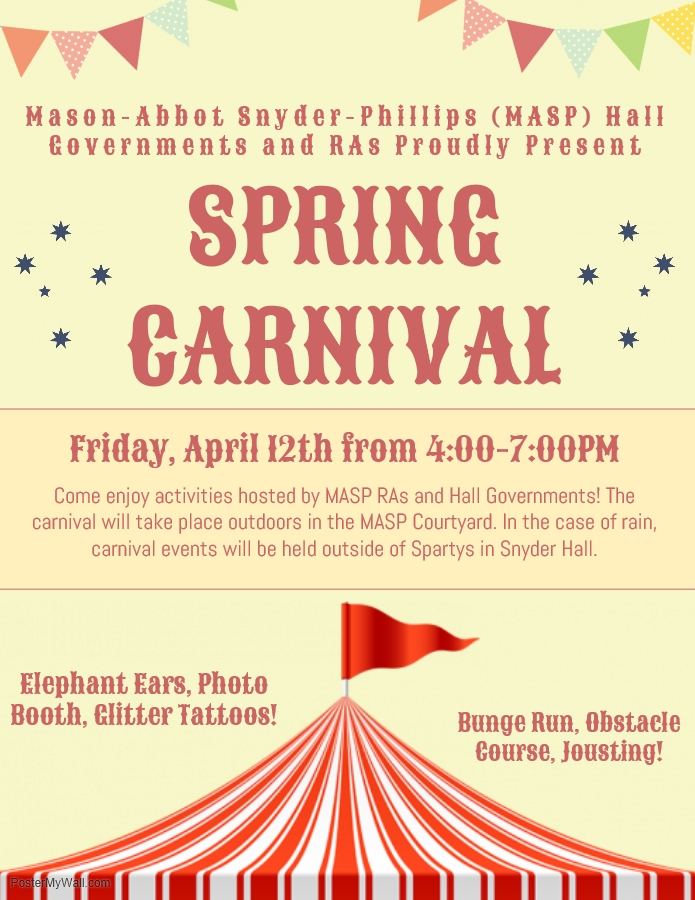 April 13th, 2019
8am - 5pm
Kellogg Hotel and Conference Center
The Environmental Science and Policy Program will again host their annual Fate of the Earth Symposium Saturday, April 13th. This event brings together discingushed thinkers, speakers, and scholars from around the globe to discuss our current environment and work to solve climate change and related issues. 
The event includes:
Seminars
Discussion sessions
Webcasts
Workshops and breakout sessions
Concluding Reception and Awards Ceremony
Breakfast and lunch is provided; all are welcome to attend. Please follow this link to learn more and register for the event:
Fate of the Earth Symposium Registration. 
2019 Innovation and Entrepreneurship Week
April 15th - 19th 
A week-long series of events for students across MSU, showcasing efforts in innovation and entrepreneurship throughout the past year. This includes student showcases, presentations, and celebrations. To RSVP for any of the below events, please vist the Entrepreneurship and Innovation Mainpage.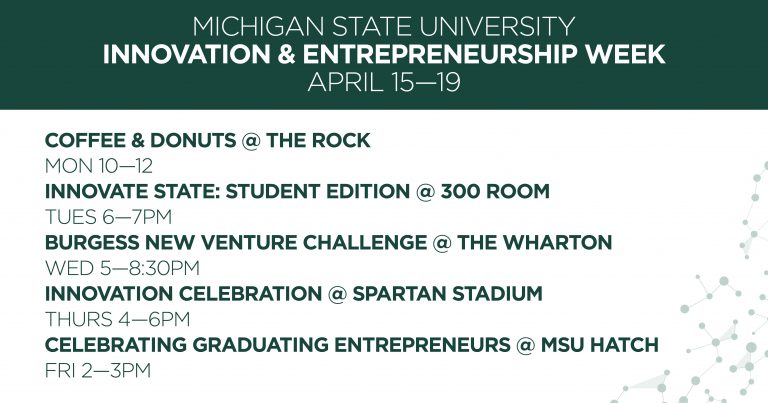 Big Green Gig

April 18th, 2019

11am - 4pm

Wells Hall Green

The student organization Green Alliance brings the Conscious College Road tour to MSU this spring in the form of the Big Green Gig. The Tour is put on by a organization in California called Turning Green and is a unique, interactive, and hands-on opportunity for students to become mobilized around sustainable solutions on campus. Conscious College Road Tour informs students on a variety of sustainability themes, empowers them to create tangible change on their campuses, and mobilizes them around a student-led sustainability project on campus. The event is broken into two parts: a tabling event held on the green in front of Wells, and a town hall discussion later in the afternoon to discus sustainability at MSU. The Wells Green event will be centered around seven themes of sustainability: Footprint, Body/Wellness, Fashion, Zero Waste, Food, Play, and Clean. At each table students will be able to interact with educated volunteers and receive free samples of sustainable products. Other tables will host sustainability RSOs from across campus with interactive displays. Further details will be provided closer to the event.
Facebook event: https://www.facebook.com/events/2227763374205483/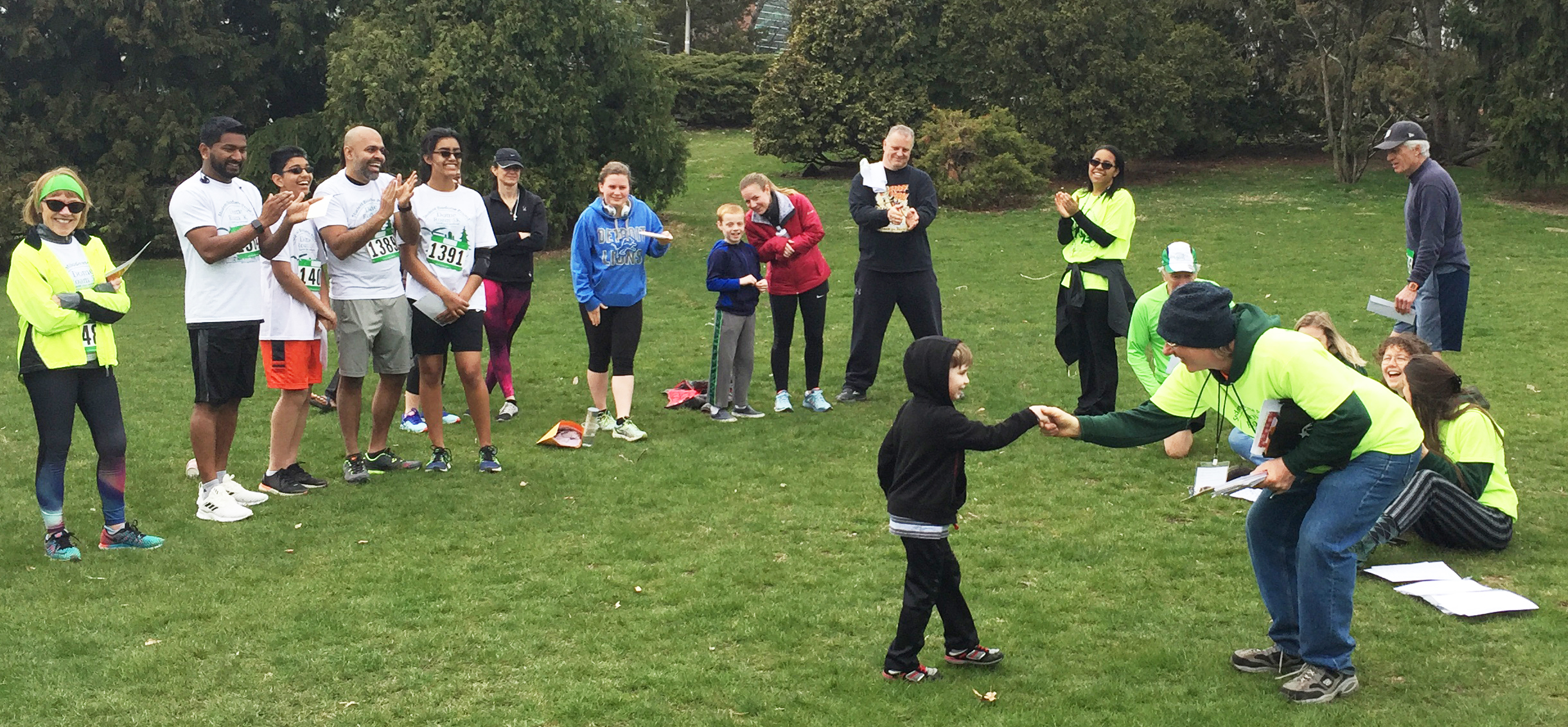 Conscious College Road Tour: Town Hall
April 18th, 2019

6pm - 8pm

Kedzie Hall, Room N101

An extension of the Conscious College Road Tour. A town hall meeting, to help students and other members of the community develop ideas to improve sustainability practices in East Lansing. All are welcome; dinner will be provided; come to speak or to listen, and help to activate the change you want to see at MSU. 
Facebook event: https://www.facebook.com/events/2227763374205483/
Workshop: Creating a Digital Presence and Portfolio
April 19th, 2019
8am - 12pm
Kellogg Center
This workship is for graduate and professional students looking to network and grow their portfolio for Community-Engaged Work. Sustainability within society, culture, and community is a key pillar in the triple bottom line, and graduating students looking to showcase their efforts in these areas would benefit from a workshop such as this! Please register for the event here. 
Bag It Film Screening
April 22nd, 2019
6pm - 8pm
Natural Resources, rm 225
Movie, pizza!, raffle, prizes, community building, envisioning a more sustainable future.
Pizza will be provided and prizes available! A raffle will be drawn for gift cards for Chipotle, Insomnia Cookies, and Blue Owl Coffee. Please RSVP here. 
Bag It takes a closer look at plastic across the globe; our human dependency on it, our tendency to dispose of it, and our habits of putting it out of our minds. Bag It addresses these issues through the eyes of an average American, and takes us to the Bahamas, Europe, and across the U.S.; even stopping in Michigan to hit home our local plastic dependecy. This screening invites all students to watch and learn more about the everyday items we take for granted.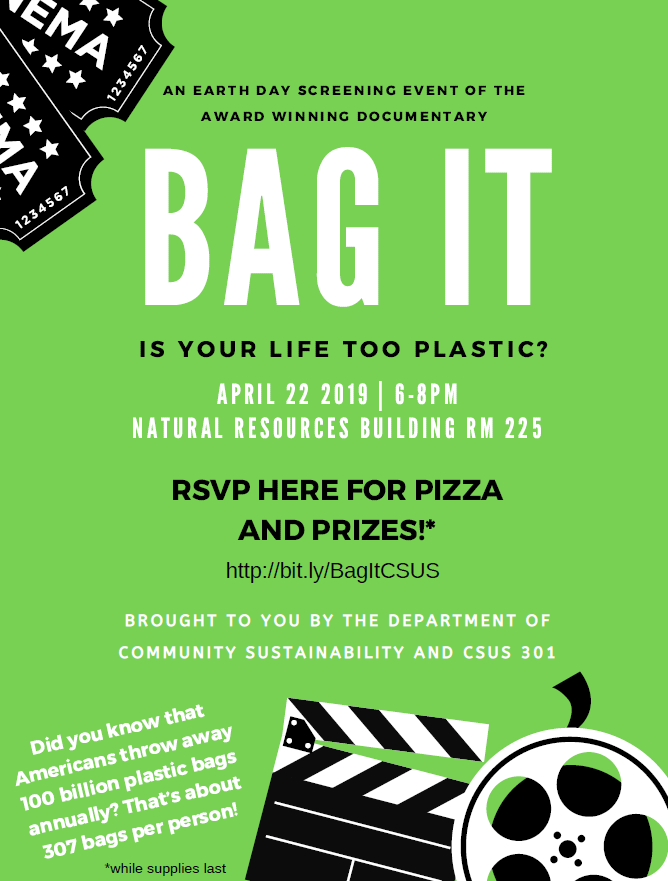 Earth Week Film Screening and Panel Discussion
April 23rd, 2019
6pm - 9pm
Studio C, Meridian Mall, Okemos
To support Cyclone Idai relief efforts in Mozambique, Malawi, and Zimbabwe, an Earth Week Film Screening and Panel Discussion Fundraiser will be hosted the evening of April 23rd. The event is sponsored by the Department of Geography, the African Studies Center Department of Media & Information, the Global Center for Food Systems Innovation, the Department of Community Sustainability, the African Graduate Students Association, and the Greater Lansing United Nations Association.
Film: Thank you for the Rain Panelists for the event include:
Leo Zulu
Leah Mungai
Jennifer Hodbod
Jennifer Olson
DEQ Earth Day Event
April 24th, 2019
ALL DAY
Constitution Hall, Lansing
The Department of Environmental Quality will host its annual Earth Day event April 24th at Constitution Hall in Lansing. Don't miss Professor Lissy Goralnik's Community Sustainability Class CSUS 301: Community Engagement for Sustainability; they will host a booth on plastic waste and community art making for K-6 students. For more information on the interactive, family-friendly event, please visit the DEQ Event Page.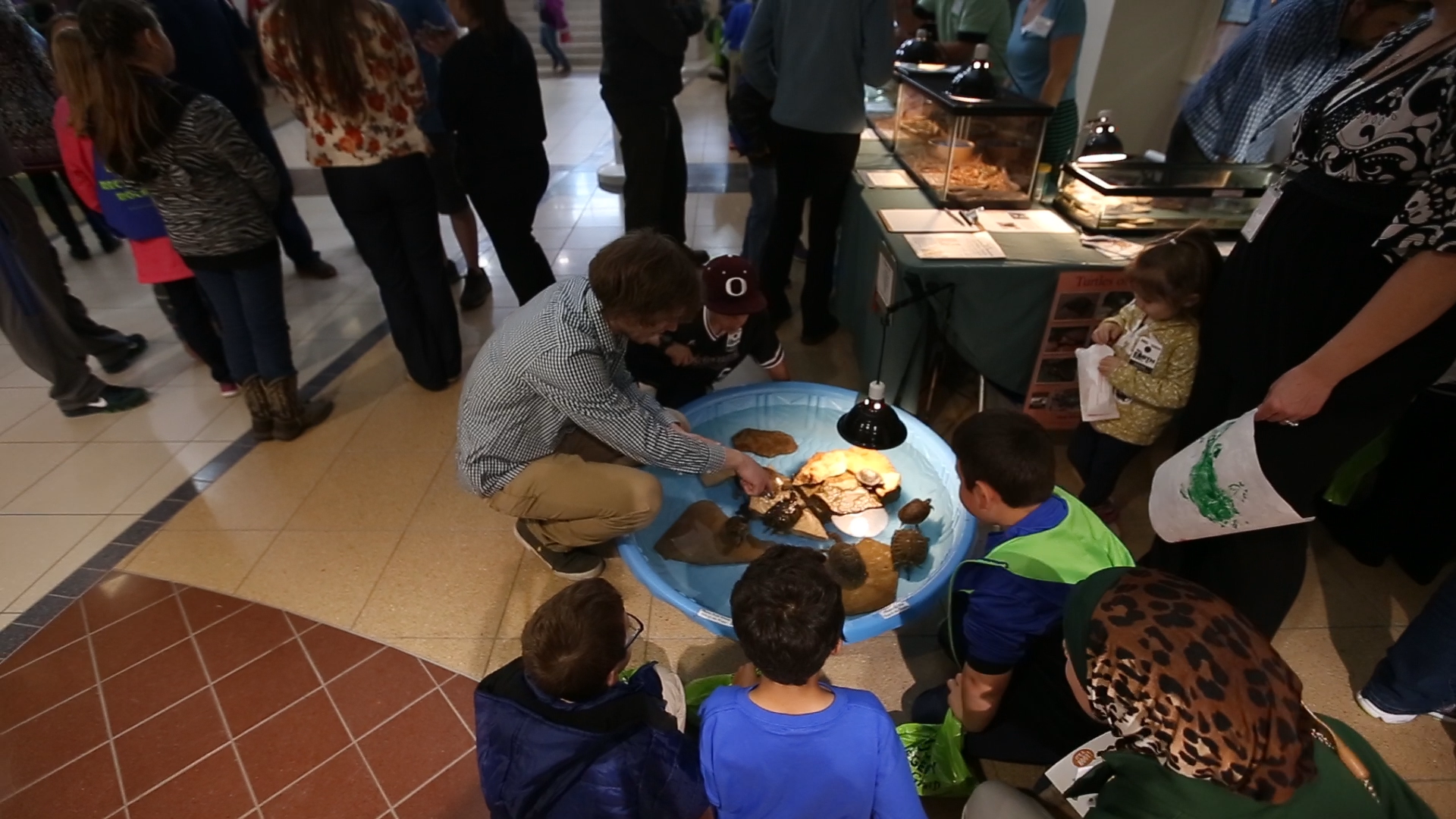 Arbor Day Tree Planting
April 26th, 2019
12pm - 1pm
Brody/Emmons Green
Infrastructure, Planning, and Facilities would like to invite the MSU community to join them in this year's Arbor Day Tree Planting at noon on April 26th. Participants will meet on the Green between Bailey, Emmons, and Brody Hall in the Brody Neighborhood. Please come dressed for the weather and ready to plant some trees!
Red Cedar River Walk
April 26th, 2019
12:15pm - 12:45pm
Wells Hall Green; picnic tables in front of B Wing
MSU Sustainability and Health 4U's MSU Moves will host a River Walk along the Red Cedar on Arbor Day. During this walk, staff, faculty, and interested students will learn about trailways and rivers from the J. Beal Botanical Garden Curator and Collection Manager Peter Carrington, while getting some fresh air at  lunch hour and enjoying the beauty of the river.
Those attending the walk should meet at the picnic tables outside the B wing of Wells Hall at 12:15pm; the walk will conclude at 12:45pm. All are welcome!