MSU recognized for bike-friendly campus
The League of American Bicyclists recognized Michigan State University with a silver-level Bicycle Friendly University award, adding it to the list of more than 100 visionary colleges and universities from across the country.

MSU remains part of a cutting-edge group of colleges and universities across the United States transforming their campuses and the communities around them. MSU moved from the bronze level awarded in 2011 to the silver level.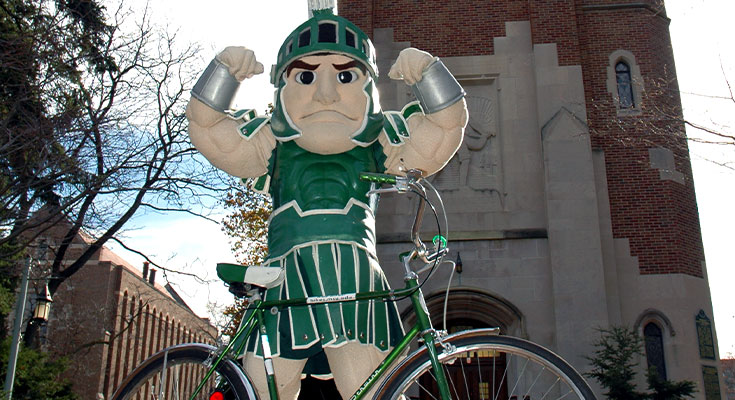 "It's very encouraging to receive this new recognition of the hard work that's been done all over campus by so many people to make MSU a more bike-friendly university," says Tim Potter, sustainable transportation manager of MSU Bikes Service Center. "We've come a long way in just the past four years, and the growing numbers of bicyclists on campus, especially those using our many miles of bike lanes, is telling me that those efforts are well worth the investment in time and resources."

With more than 10-miles of additional on-street bike lanes and the installation of five new do-it-yourself bike repair and air stations on campus since 2011, MSU continually strives to better serve the bike community. MSU now offers two secure bike garages on campus and a Bike Share program through the Associated Students of Michigan State University.

"If we can increase the amount of people who use bicycles to commute on campus, we will decrease the amount of fuel emissions on campus and make MSU a more green campus," said Gaston (Gus) Gosselin, a mechanical engineer at MSU Infrastructure Planning and Facilities. "I ride my bike to all of my meetings on campus. Riding on campus is very safe and drivers are very friendly, so I always encourage everyone to ride instead of drive." Gosselin is also the chair of the MSU Bike Advisory Committee.

Moving forward, MSU will have access to a variety of free tools and technical assistance from the League of American Bicyclists to become even more bicycle friendly.

To learn more about the free Bicycle Friendly University program, visit the League of American Bicyclist's website.