Student group promotes sustainability across campus
Across the world, sustainability is an increasingly urgent and relevant industry - calling on young professionals from diverse backgrounds to address some of the most pressing environmental issues we face today. At Michigan State University, several student organizations are actively working to take that commitment to the next level by devoting their work to sustainable solutions.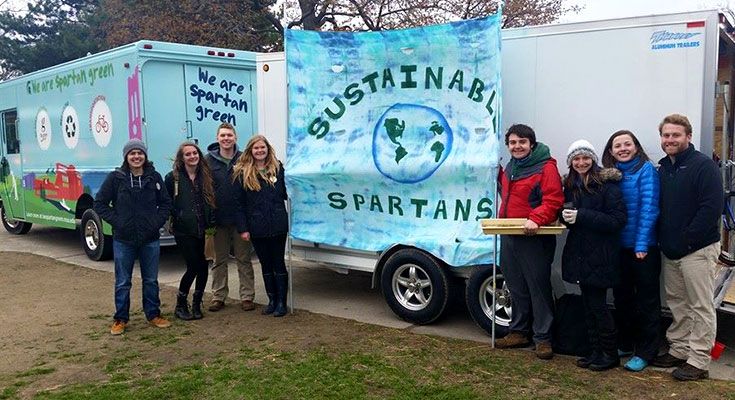 One student group that is actively committed to increasing awareness and participation within sustainability is the Sustainable Spartans. A research-focused organization investigating sustainability, the Sustainable Spartans look to develop practical solutions that can be implemented right on campus.

The group's annual "Earth Day at The MSU Rock," celebrates Earth Day by educating students on sustainable practices that can be easily implemented on campus. Last year, the Sustainable Spartans organized free bike repairs, potted plants and other giveaways for students who joined in the festivities. Additionally, they participated in Harvest Fest, an event hosted by the MSU Student Organic Farm, to raise awareness on the importance of locally sourced food.

The Sustainable Spartans boast a multi-disciplinary team that works to address sustainability issues from different angles. Their creative projects encourage ingenuity and collaboration between students with different backgrounds, interests and experiences.

"Varying perspectives allow us to look at issues of sustainability from new angles and tackle projects in a more comprehensive manner," said Kelsey Allan, Event Coordinator for the Sustainable Spartans, "Sometimes an idea can seem overwhelming, but as a group we can split up tasks and make that idea a reality."

One exciting project, completed last April, was the installation of a solar-powered picnic table located in the South Campus Courtyard. In addition to providing students with a tech-friendly outdoor study space, the solar table was a reflection of the hard work and intense planning the Sustainable Spartans underwent.

"We reflect on the changes we want to see on campus and we actively do something about it," said Allan, "We saw the need for more solar panels on campus, did the research, found a supplier, and applied for grant money through MSU Sustainability to purchase and install it."

With no intensions on slowing down, the Sustainable Spartans have a number of exciting projects on the horizon, including competing in the MSU Energy Innovation Award and Student Solar Design Competition, developing a grant proposal to implement kinetic energy-powered equipment at the IM gyms, increasing rain harvest barrels on campus and improving local food options at Sparty's locations.

To learn more about getting involved with the Sustainable Spartans, visit their Facebook page.