Student group advocates for the environment at MSU and beyond
As the environment continues to grow as a topic of great interest in national politics, the Spartan Sierra Club is addressing the most current and pressing environmental issues here at MSU, such as climate change, clean energy and waste reduction, through a variety of advocacy campaigns. Under the Sierra Club's umbrella of leadership, they are pushing for sustainable change on campus, in the local community and beyond.

This student organization joins political advocacy and nature by working on campaigns that support relevant environmental issues to MSU students. They attend political rallies and marches, but also sponsor campus nature outings and service activities, giving members the opportunity to apply their diverse studies to real issues in a way that supports their passion for the environment.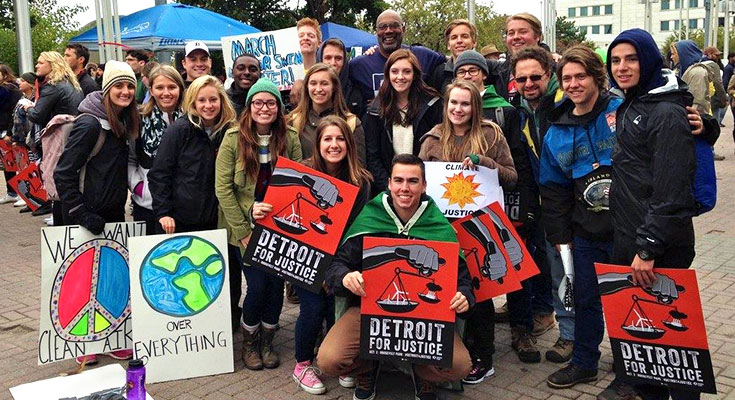 "Being in the Spartan Sierra Club is a good outlet for students who are interested in environmental policy and political advocacy - it transforms you from a passive environmentalist into an active environmentalist," said Peter Huyberts, Marketing Chair for the Spartan Sierra Club.

This semester, they're partnering with MSU Recycling on a campaign to improve campus recycling by testing different visual signage. Their goal is to increase the amount of recycled material in various buildings and better inform students on how to utilize the MSU Recycling Center to make an individual impact on campus waste. Eventually, they want to expand their campaign to include composting in campus residence halls.

As one small part of a very large organization, the Spartan Sierra Club is connected with numerous environmentally-focused students and professionals across the country. They partner with the Sierra Club Michigan Chapter, located in Lansing, to bring speakers and events close to campus and to seek professional networking and internships. Some members have even found job opportunities post-graduation through these connections.

"This organization is a gateway to meeting the types of professionals we want to be someday," said Joe Kahn, President of the Spartan Sierra Club, "it automatically inserts you into a higher level of opportunity beyond your educational experience."

To learn more about getting involved with the Spartan Sierra Club, visit their Facebook page.