Reducing food waste in MSU's dining halls
Michigan State University provides over 30,000 meals to students, staff and faculty every day on campus, generating over 14,000 pounds of food waste. To reduce waste and raise awareness, Residential and Hospitality Services created the Clean Plates at State food waste program in 2012 to examine customer behavior and educate guests on waste-reduction practices during meals.

Designed to promote environmental sustainability through annual food waste audits, the program demonstrates responsible dining practices that help eliminate unnecessary food waste and encourage students to make healthy eating choices.

To measure the effectiveness of the program, annual waste audits are conducted at various campus dining halls to measure both food waste and customer behavior. A digital scale weighs each guest's plate during waste audits, with special attention to the number of plates that achieve zero waste.

By holding the program annually, MSU can track progress and identify opportunities for improvement. The 2015 study has been a successful year, with 20 percent of participants achieving zero waste.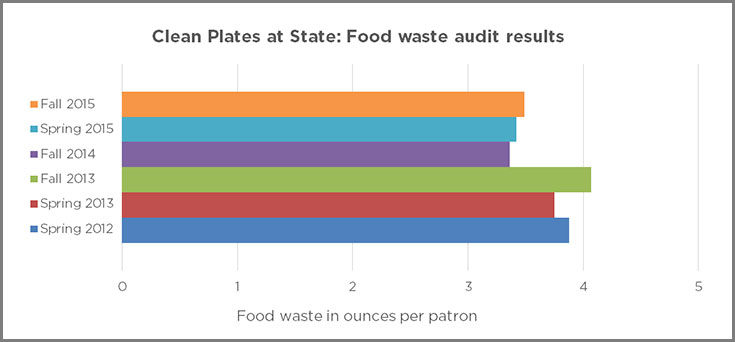 The program sheds light on common issues, such as oversized platters or serving sizes, providing key information to Culinary Services staff about how to improve daily operations in order to reduce waste.

"Clean Plates gives chefs and kitchen staff the ability to see what is being eaten and determine why some items are being wasted, giving us better ability to forecast the same item for next time we serve, or adjust a recipe," said Alka Josh, Dining Service Manager for South Neighborhood.

Because food plays a critical role in daily activities, it is one area of sustainability that must be addressed by each and every person in order to see a real impact. At MSU, that responsibility falls not only on the university, but on everyone that enjoys on-campus dining. You can do your part by following these simple steps to reduce food waste:
Check your menu online ahead of time and plan a meal in advance
Go trayless and only take what you can hold at one time
Remember that you can always get seconds; opt for one plate of food at a time
If you aren't sure you will like something, ask for a sample before taking it
Give yourself at least 45 minutes to eat so you aren't rushing
Eat snacks between meals so you don't overestimate your hunger
To learn more about MSU's food waste strategies and how you can be more sustainable with your food choices, visit the Eat at State website.