MSU sunsets 'Be Spartan Green' engagement campaign
On October 6, 2017, MSU offically sunsetted the Be Spartan Green campaign, and closed the @BeSpartanGreen Twitter and Instagram accounts. Additionally, the Be Spartan Green monthly e-newsletter sent its final edition in early October.  
BACKGROUND ON THE BE SPARTAN GREEN CAMPAIGN 
Created in 2009 to help stimulate campus-wide conversation about topics ranging from renewable energy, to conservation, organic agriculture and more, the Be Spartan Green (BSG) engagement campaign gave a voice to sustainability at MSU. It served as a source for sharing stories about students, faculty, staff and projects on campus that were dedicated to reducing environmental impact, and provided resources to the MSU community about how to make a difference through small actions. 
Facilitated by the IPF Sustainability department, BSG had an active voice on social media channels and in several programs that encouraged campus staff and students to become sustainable leaders in their respective spaces. The campaign also supported on-campus sustainability research and assisted other campus departments and groups with making sustainable changes to their procedures, facilities and events. 
Over the last few years, MSU has seen a surge in sustainability leadership; a clear increase in sustainability-related academic courses, student groups, staff advocates and research indicates that Spartans have embraced their land grant roots, and are actively pursuing sustainability as a core imperative. Amidst continued support, it has become clear that MSU does not need one voice to guide conversations around these critical topics; instead, we can count on all Spartans to share the responsibility. 
Students, faculty, staff and the community can continue following along with the latest sustainability research, news, events, projects and more by regularly checking out MSU's sustainability website, and by connecting with the countless academic departments, student groups, departments and projects that are active on social media. 
@BESPARTANGREEN HIGHLIGHTS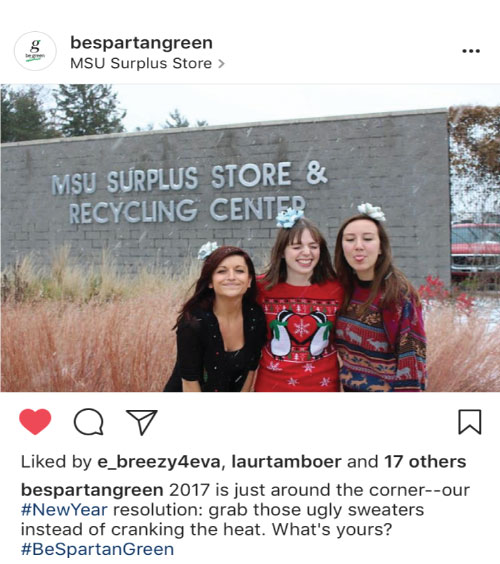 FUN FACT: The IPF Sustainability department has the privilege of working in MSU's Surplus Store and Recycling Center building, a perfect environment for keeping up with the latest sustainability trends.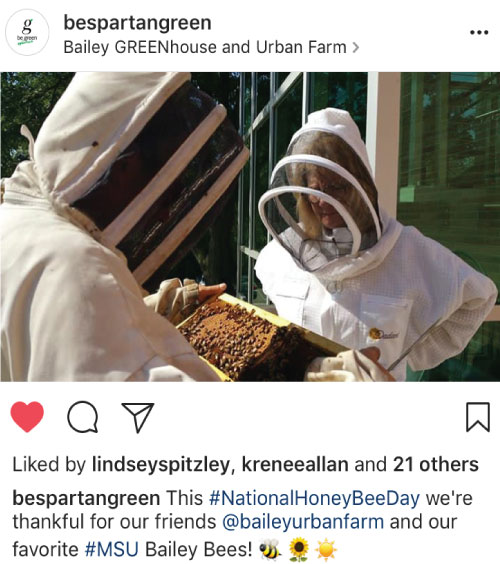 FUN FACT: The Bailey Hall Rooftop Beehive Initiative allows students to engage with experienced beekeepers to maintain the beehvie, immersing them in experiential learning that has the added benefit of increasing honeybee populations on campus.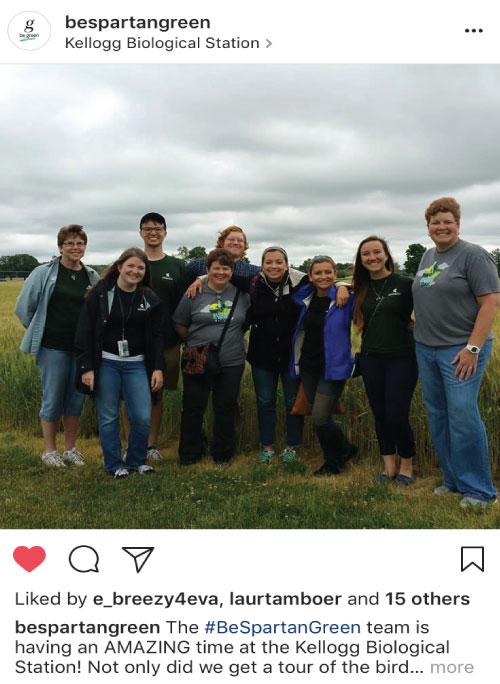 FUN FACT: MSU's Kellogg Biological Station is the university's largest off-campus research facility, where they conduct critical agricultural studies and have award-winning facilities. On this trip, we visited their LEED certified Pasture Dairy Center.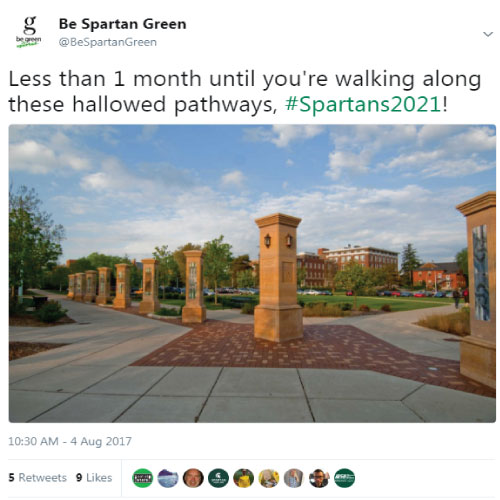 FUN FACT: MSU's campus stretches over 5,000 acres - that includes incredible greenspace, the beautiful Red Cedar River, and countless walkways that are perfect for exercise (or stressfully running to class).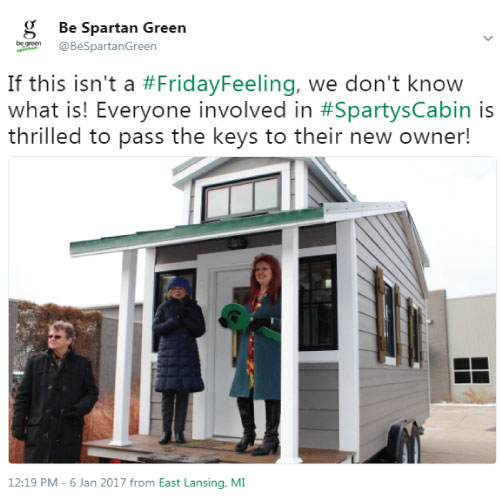 FUN FACT: Students in MSU's School of Planning, Design and Construction organized, scoped, secured funding for and built this AMAZING sustainable tiny house, named "Sparty's Cabin." It was then sold to an MSU almna who downsized her whole life to "go tiny."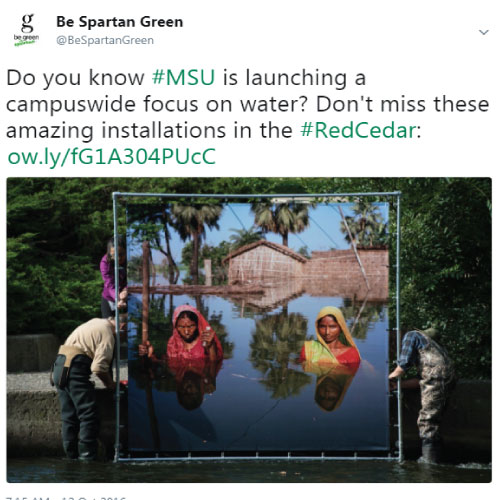 FUN FACT: World-renowned artist, Gideon Mendel, used MSU's campus (in addition to the Broad Art Museum) to display his "Drowning World" collection, which portrays the devastating effects that climate change has had with regards to global flooding. He worked with MSU to install the photos in the Red Cedar River to spark conversations between students, faculty, staff and the community.