PLAN Points of Intervention Tour
March 19th, 6:30pm-9:00pm, MSU Union Ballroom
March 20th, 11:00am-6:00pm, MSU Broad Art Museum & Art Lab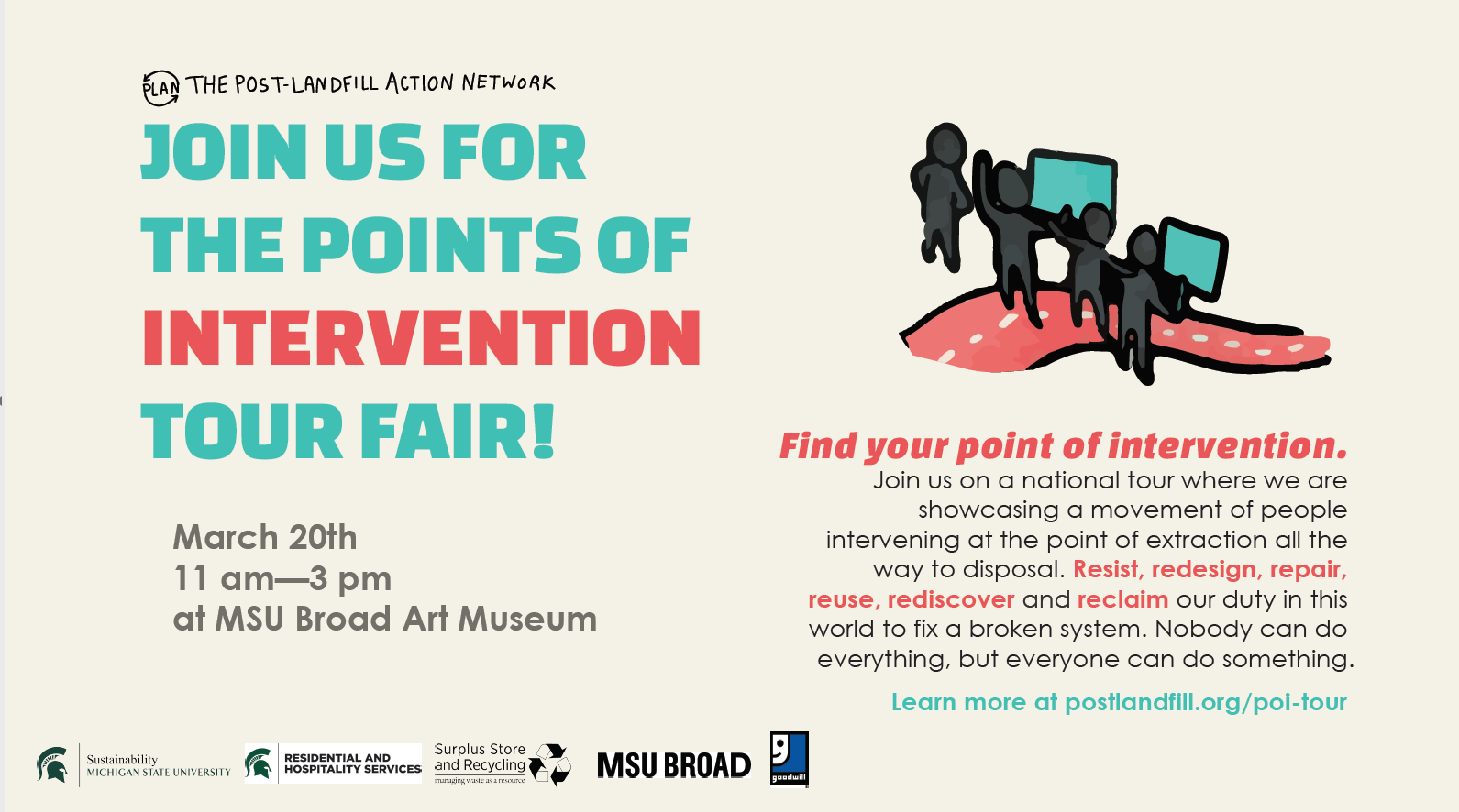 Join us as we welcome the Post Landfill Action Network (PLAN) in bringing the Points of Intervention (POI) tour to Michigan State University! 
This day-and-a-half event is designed to engage students in understanding their individual role in creating a circular economy and combating our culture of wasteful consumption. Whether through shopping at thrift stores, biking to class and work, composting your food scraps, taking political action by voting, or living a lifestyle that encompasses all those things, POI invites you to consider what you are passionate about and act accordingly. Nobody can do everything, but everyone can do something. 
The kick-off event on the night of March 19th will be at the Union Ballroom and feature a keynote, focused panel, and an interactive question-and-answer session. The Broad Art Museum will host the tour for a full day on March 20th, which will include a resource fair with attendees from local organizations and businesses; art exhibits based in sustainability, renewable energy, and zero-waste practices; and workshops designed to educate students and the community on individual impact and activism. Events and workshops moderated by PLAN staff members will encourage students to look critically at our current system, in which raw materials are taken from the earth, made into disposable goods, and end their life-cycle in a landfill.
Full schedule: 
March 19th
6:30pm: Doors open at MSU Union Ballroom
7:00pm: Opening keynote begins, featuring Michelle Martinez, statewide coordinator of the Michigan Environmental Justice Coalition
8:00pm: Join our panel of experts for an interactive discussion on what you can do as an individual to intervene in the linear consumption economy through art, science, business, or political advocacy.
March 20th
11:00am - 3:00pm: Doors open at the MSU Broad Art Museum and Art Lab for the Points of Intervention Resource Fair. More than 30 businesses, local organizations, and student groups will be present for a day of interactive learning and skill-building. Leave with new tools for fighting environmental injustice and leading a zero-waste lifestyle!
1:00pm - 2:00pm: Clear your mind at a free yoga class hosted by East Lansing Hot Yoga in the MSU Broad Art Lab.
2:00pm - 3:00pm*: Our workshop series begins in the MSU Broad Art Museum with Capitalism and Zero Waste. Examine how the global capitalist economic system helped create and now perpetuates the waste crisis, as well as the role the Zero Waste movement can play in response.
3:30pm - 4:30pm*: Our second workshop, Break Free From Plastic, will teach students about about the problems with single-use plastics and what can be done on campus and beyond to stem the flow.
5:00pm - 6:00pm*: For those already thinking about graduation, Stay Rad Post-Grad is the workshop for you. Through the Points of Intervention framework for change, participants will explore their diversity of options for engaging in meaningful work after graduation.

*Because workshops have limited space, online registration is required.
2019 is the second year that the Post Landfill Action Network will be visiting schools around the country for their Points of Intervention tour. PLAN is a New Hampshire-based nonprofit organization dedicated to inspiring student activism around the zero-waste movement. Much of their work involves connecting interested students on campuses across the U.S. to resources that can help them live zero waste lifestyles and lead their colleges and universities to zero waste operations. In the past, they brought MSU the Patagonia Worn Wear Tour and had MSU Recycling student employees speak at and participate in their annual Students for Zero Waste conference.
Partners for this event include the MSU Recycling Center, MSU Residential and Hospitality Services, MSU Sustainability, Associated Students of Michigan State University, and the Eli and Edythe Broad Art Museum.
To RSVP for Points of Intervention Tour workshops and events, please follow the link below:
https://msu.co1.qualtrics.com/jfe/form/SV_6Gv7HY1oru3TLPT
See the Facebook Event for regular updates.